Many couples like to send their guests home with a small token or memento of their wedding day. However, though when planning and budgeting for a wedding, sometimes this idea of wedding favours for the guests get scratched off the list due to budget restrictions. There are many favour ideas though, that are unique and quite practical at the same time and most importantly of all, are not overly expensive. Here are some wedding favour ideas that will surely impress your guests and keep your overall costs down as well.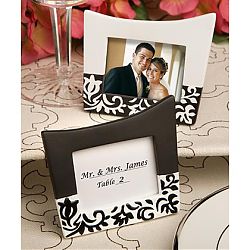 Placecard frames – Insert your guests' names along with their table number into a placecard frame. Not only does this make for a beautiful display, but a practical wedding favour as well. Guests are able to take the frame home and insert a beautiful picture to make the frame their very own. There are many sizes and styles of placecard frames available, so you will be able to find that ideal frame for your guests.
Seedlings and Seeds –
Have guests grow a beautiful tree, pot of flowers or herbs in your honour! Visit a local nursery for the best tips to package and present seedlings as wedding favours. However, seeds can be packaged into beautiful eco-friendly boxes and wrapped with coordinating ribbon to "match" the colour flowers or herbs that will grow. Be sure to include planting and care instructions for your guests.
Chocolates – Sweets always make for a delicious and wonderful wedding favour! There are many ways to make your wedding favours delicious. Place a few chocolates into a decorative tin, for each guest to take home after the wedding. Decorate the tin with ribbon that matches the colour scheme that is used throughout the wedding. Attach a small tag to teach ribbon thanking guests for sharing in your special day. There are even adorable and sweet chocolate champagne bottle wedding favours that can be placed at each guests' place setting. Remember to buy chocolates and containers in bulk to receive a substantial discount.
Wine Charms – Gather your bridal party around and make an evening out of making these fabulous wine charms! Wine charms are used to "mark" your glass and would make for unique and practical wedding favours. The supplies can be found at your local craft store. You can even personalise each charm, by selecting various bead colours and even special wedding beads or initial beads, to make for a one-of-a-kind wedding favour!
Amanda Cooper is a contributing writer for Wedding Favours UK, which carries quite a large selection of wedding accessories, wedding cake toppers, wedding favours, and even Christmas favours. Amanda is a writer for other wedding and travel websites. When Amanda is not writing, she enjoys cooking for family and friends.