Certified Translations for Weddings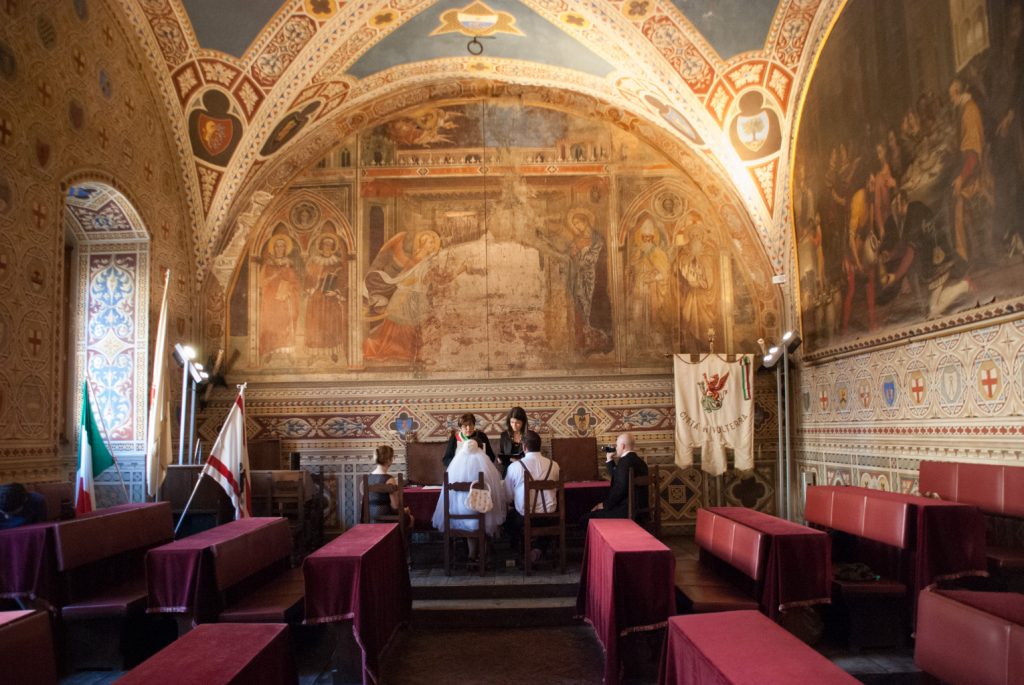 Efffetti is proud to offer certified translation and interpreting services, a necessity in Italy when one or both spouses are not fluent in Italian. We specialise in assisting British couples and agencies navigate the complexities of Italian law, offering a comprehensive package for the official translation of Certificates of No Impediment at a local Italian court.
Our team of certified translators in Italy is proficient in English, French, Portuguese, and Russian, and we will translate these documents into Italian. If required, we can also take your translated documents to court to get the sworn seal applied and to apostille/legalize them. This service extends to wedding certificates intended for use abroad, as well as interpreting services during the ceremony in a town hall or church.
Efffetti is also known for its exceptional "Asseverazione" services, i.e., legalization of translations at the court, particularly for wedding certificates like Nulla Ostas, No Impediments, Birth Certificates, Decree Absolute, and more.
You can find us listed in the British Government Translators Directory (FCDO) under Monza (MI) and Tuscany. However, our coverage extends to Rome, Venice, and the Northern Lakes region, with personal presence and assistance. We provide swift delivery of our services worldwide, ensuring you receive your official translations in Italy on time, every time.
British Couples Getting Married in Italy: Procedure for Certificates of No Impediment
British couples getting married in Italy will need two Certificates of No Impediment issued by British local Registrars need to be apostilled in the UK. They must then be officially translated into Italian, in Italy, at an Italian court. This procedure, known as ASSEVERAZIONE, can be obtained in Italy ONLY.
Each Certificate of No Impediment translation must be processed at an Italian court. While some courts operate daily, they may incur higher fees – see our comprehensive cost breakdown below.
Two Statutory Declarations will be needed too, these are multilingual and do not require a translation, but still need to be apostilled in the UK.
At Efffetti, we take the stress out of this process for British couples. Our service rate includes the official translation of the two Certificates of No Impediment (CNI's) at the Court (Asseverazione procedure at a local Italian Court), court fees, and courier costs for sending the documents to an Italian address or directly to your wedding's town hall.
Should you choose the latter, we will liaise with the Registrar of your wedding city to ensure we have the correct address and send the documents to the person in charge. With Efffetti, you can rest assured that your official translations for weddings in Italy are in expert hands.
Timing
Once we receive the original CNI (you can also send us the Statutory Declarations, and we will then forward everything to the registry office of your wedding), it typically takes between 3 and 10 days to deliver your documents to the town hall if we process with express service. For standard delivery, it may take up to a month because less expensive courts only open one day a week for this service. The exact timeline will depend on when we receive your original certificates and secure a meeting with the court.
Costs
Efffetti offers an all-inclusive package for official translations of Certificates of No Impediment in Italy, with fees starting at just 160€ for no urgency services (processing may take up to a month depending on court availability).
Please note, for urgent cases where we have to approach a court that requires double the number of Marca da Bollo, the fee rises to 210€.
If you only need ONE Certificate translated (as only one of you is British), the fee for one certificate is 110€ including VAT. In case of urgency, the fee is 140€ due to the higher cost of the court.
For express courier delivery back to the UK, please add an additional 29€ to the above fees. This cost covers express document delivery from Italy to the UK via DHL, UPS, FedEx, etc.
Payment is required on the day we confirm receipt of your original documents.
What's Included in the Fee?
In addition to our official translation services, you'll also receive a complimentary "wedding paperwork consultancy" and interaction with local authorities – all included in the fee.
Payments
Payments can be made securely via credit card through the PayPal gateway.
Choose Efffetti for reliable, efficient, and affordable official translations for weddings in Italy. We're here to help make your special day as seamless as possible.
Interpreter at the Wedding
In addition to our document translation services, Efffetti can provide professional interpreting services for your wedding ceremony in Italy.
Interpreters are mandatory for a legal ceremony in Italy if even just one of the spouses is not fluent in Italian. Our interpreters do more than just translate – they draw on their extensive experience with weddings to help you personalize the standard ceremony. They can suggest and include poems and readings, ensure the inclusion of your own vows and personalized ring exchange wording, and liaise with the official celebrant of the town hall to ensure you have your special segment during the ceremony.
To request our interpreting services, please provide your return address and any other relevant information about your needs in the form below.
The Efffetti team comprises certified experts with degrees in foreign languages, decades of experience in language teaching, and some of us even have the Proficiency in English certification issued by the University of Cambridge. For Russian and Portuguese, we have native speakers on our team.
You can inquire about Efffetti's comprehensive translation/interpreting services throughout Italy by clicking here or filling in the form below. We are here to make your wedding in Italy as smooth and memorable as possible.
*Read here our Privacy Policy