Are you getting married in Tuscany? You do not have to but you can spend your fantastic honeymoon in a splendid village. You will save money and enjoy it all the more just being in the company of each other. And what is more romantic than spending your first days as newly weds in splendid Tuscany apartments located in a castle? Here is a selection of four of the most beautiful castles in Tuscany that provide apartments for holiday rentals.  Remember to ask the management if they have honeymoon specials when booking.  Some provide nice treats and special welcomes.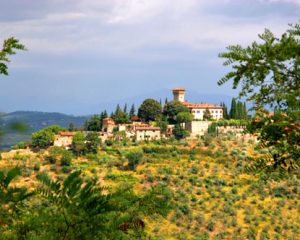 The Vicchiomaggio Castle This is a wonderful fifteen century stone castle perched on the top of a hill in the Greve valley, nearby the fabulous Florence and the extra romantic Siena. Leonardo da Vinci sojourned here some hundred years ago, and you too can enjoy the fully restored apartments and the splendid Italian garden with panoramic swimming pool. It is a fairy tale location, ideal for all honeymooners. The nearby towns and natural settings offer splendid nature activities as horseback strolls, woodland hikes and vineyard visits. The property swimming pool is for guest use.
Castello del Poggiarello di Stigliano A full-fledged medieval castle where the defense tower and the three houses, that used to be the servants',  accommodate splendidly restored Tuscany apartments.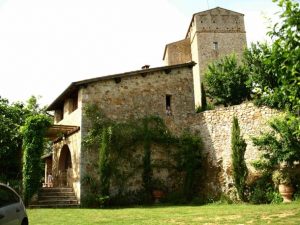 The garden of the property is very private and includes a swimming pool for exclusive guest use. Do not expect medieval comforts, as here the ancient and the modern come together for a great mix of sensuality and relax. Just what newly married couples need. Everything is furnished with antiques and traditional Tuscan pieces. The owners live on the estate and are discretely helpful to their guests. The surroundings are absolutely gorgeous including hectares of woodlands for all kind of relaxing activities. The view from the castle spaces over the Chianti hills with Siena and its tower in the foreground. Ancient ruins and wildlife species populate the surroundings, making this destination a romantic retreat in Tuscany.
Castello di Grotti An organic farm close to Siena that develops around the gorgeous castle. Just like the ancient medieval feud. There are many vacation rentals on the property. You can choose between private villas, smaller country houses or comfortable Tuscany apartments. All stays were recently restored and reside in the estate of the castle. Although all units feature modern comforts, each one maintains its Tuscan charm intact, so you are sure to feel that romantic warmth as soon entering your nest. The property features private gardens and swimming pool. The farm breeds sheep and produces cheese and olive oil, make sure you taste these prized delicacies.